Gavia stellata Length:63cm/25" Wing Span:90cm/36" Weight: 1.4kg/3.1lb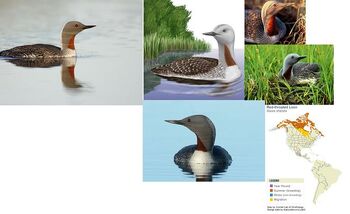 The Red-throated Loon is common sighted along the Pacific coast and on tundra breeding grounds; rare elsewhere in western North America. Winters on open lakes, bays, and especially ocean.
Appearance
Edit
The Red-throated Loon has a slender bill which is upturned and usually raised above horizontal. It's call is a quacking or gull-like wailing.
This bird dives for fish.
Similar Birds
Edit